David Small Designs has gained notoriety for a design approach called Natural Modern—an original school that reimagines post-modern architecture, creating distinctive custom homes that blend seamlessly with their surrounding environment. When asked to elaborate, we often explain our style as being 'lifestyle-friendly modern.'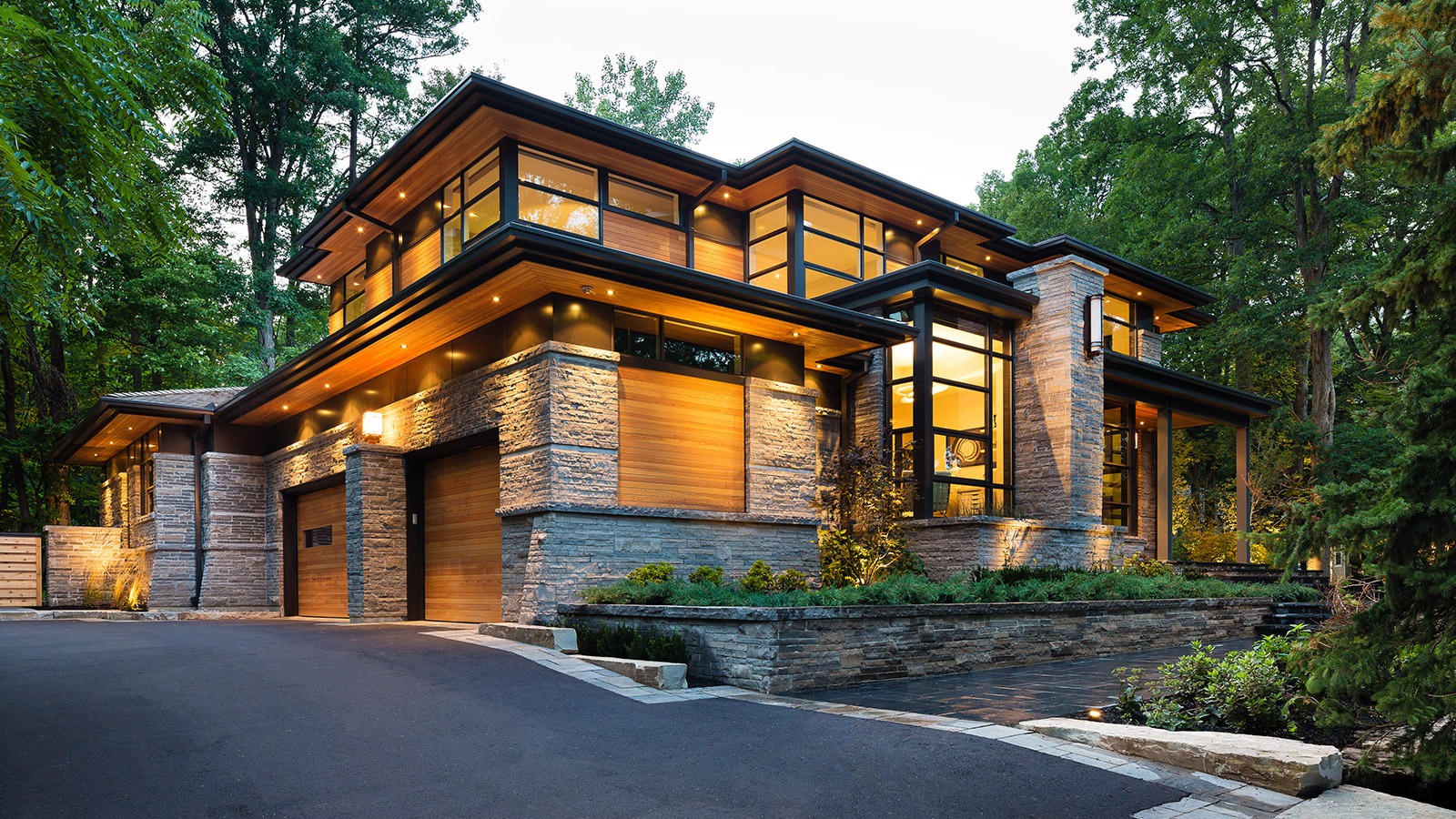 Why? A lifestyle-friendly modern home is personalized and aesthetically pleasing, while being comforting and precise in its composition. The term is a nod to the fact that modern design can (and should) be adapted to a home's occupants, rather than being proscriptive in dictating how those occupants should use the modern space itself. Your home, in other words, should work for you. Not the other way around.
Mere mention of modern architecture in home design evokes a strong emotional reaction from almost everyone. The style tends to either be loved or loathed by homeowners. But it needn't be polarizing. Modern architecture can prioritize function over form and trust in building materials to define a space, yet still be warm and inviting.
Divergent views of modern
Devotees of modern will point to the classic minimalist creations of Mies van der Rohe (think Farnsworth House) or Philip Johnson (designer of the iconic Glass House), as being near the pinnacle of modern residential design.
In these homes, industrial materials and precise geometry interplay with light and carefully balanced proportions to create a structure remarkable for its lack of ornamentation, yet striking in its reliance on the context of the surrounding landscape for texture—seamlessly connecting outside and in.
Johnson's Glass House was a major inspiration for The Last House design
And for those very same reasons, modern residential design is rejected by so many who feel it lacks heart. A modern home is indicative of an owner's identity (or an architect's vision), but the common critique is that houses in this vein are stark and cold. They may look dramatic in an architecture magazine, but have no place in a family photo album.
To some, modern evokes thoughts of the unapologetically concrete, institutional brutalist structures that were in vogue among some in the architectural elite from the late 1960s through the early 1980s. Many of the buildings aged poorly and were roundly unloved. Some, like Paul Rudolph's Burroughs Wellcome & Company building in North Carolina, have fallen prey to the wrecking ball. The criticism is not always fair, but it is prevalent—especially when distilled and applied in the context of the family home.
Modern and livable
Among others, Natural Modern draws from several schools including the sleek mid-century modern of Eero Saarinen and Pierre Koenig, and the Prairie School movement made so famous by American architect Frank Lloyd Wright.
The Prairie School's embrace of angularity, hanging rooftops and geometric patterning—which came to define many a downtown core and some of North America's fast-growing suburbs through the early to mid-20th century—were a reaction to the prevailing neoclassicism of the time. But it also reminded contemporary architects that modern homes needn't surrender their sense of warmth. It was possible to embrace many of the modern movement's core objectives without compromising a dwelling's livability and appeal.
As design styles progressed and taste shifted, modern architectural designers began reframing their efforts to place a greater emphasis on the needs of the homeowner. They determined that a modern home should aspire to being more than a functional museum piece. It should be a place to build relationships and memories.
The best of all worlds
In that sense, lifestyle-friendly modern is both cozy and ideally suited to families of all sizes and structures. It's open, airy and welcoming. It's defined by clean lines and decluttered spaces. It has space for work, play and reflection, while usually being open-concept and filled with natural light—a beloved modern feature that has been adopted by architects across a wide spectrum of stylistic leanings.
Whether our team is creating custom homes in traditional, transitional and modern styles, our work is anchored by a simple question: How can we produce a design that is beautiful and functions as efficiently and effectively as possible for the family that will eventually occupy it? How do they interact on a daily basis, and what experience do they want their home to deliver? Just as importantly, how can we ensure that the home interacts with its environment so the family can love their time both outside and inside the house, moving from one space to the other and finding enjoyment in both?
By answering those questions and working with clients to clarify their vision before we begin work, it's possible to create a distinctive design that suits their needs—to build a lifestyle-friendly modern home where they can grow and thrive as a family.
The David Small Design Team
https://www.davidsmalldesigns.com/wp-content/uploads/2020/05/Davids-house-scaled.jpg
1721
2560
admin
https://www.davidsmalldesigns.com/wp-content/uploads/2019/11/David-Small-Designs-Logo.svg
admin
2021-04-27 09:00:14
2021-09-10 11:09:18
Lifestyle-friendly Modern—a Primer