If the architectural design of a custom home is a reflection of the owner's personal tastes and aspirations, then the home's outdoor living spaces are a nod to their love of nature, need for relaxation and sheer enjoyment of the many features of their surroundings. Because for many Canadian and American home owners—whether in northerly regions where the summers seem all too short, or in warmer climes where a year-round connection to nature is easier to maintain—their outdoor living spaces are just as important as the ones inside.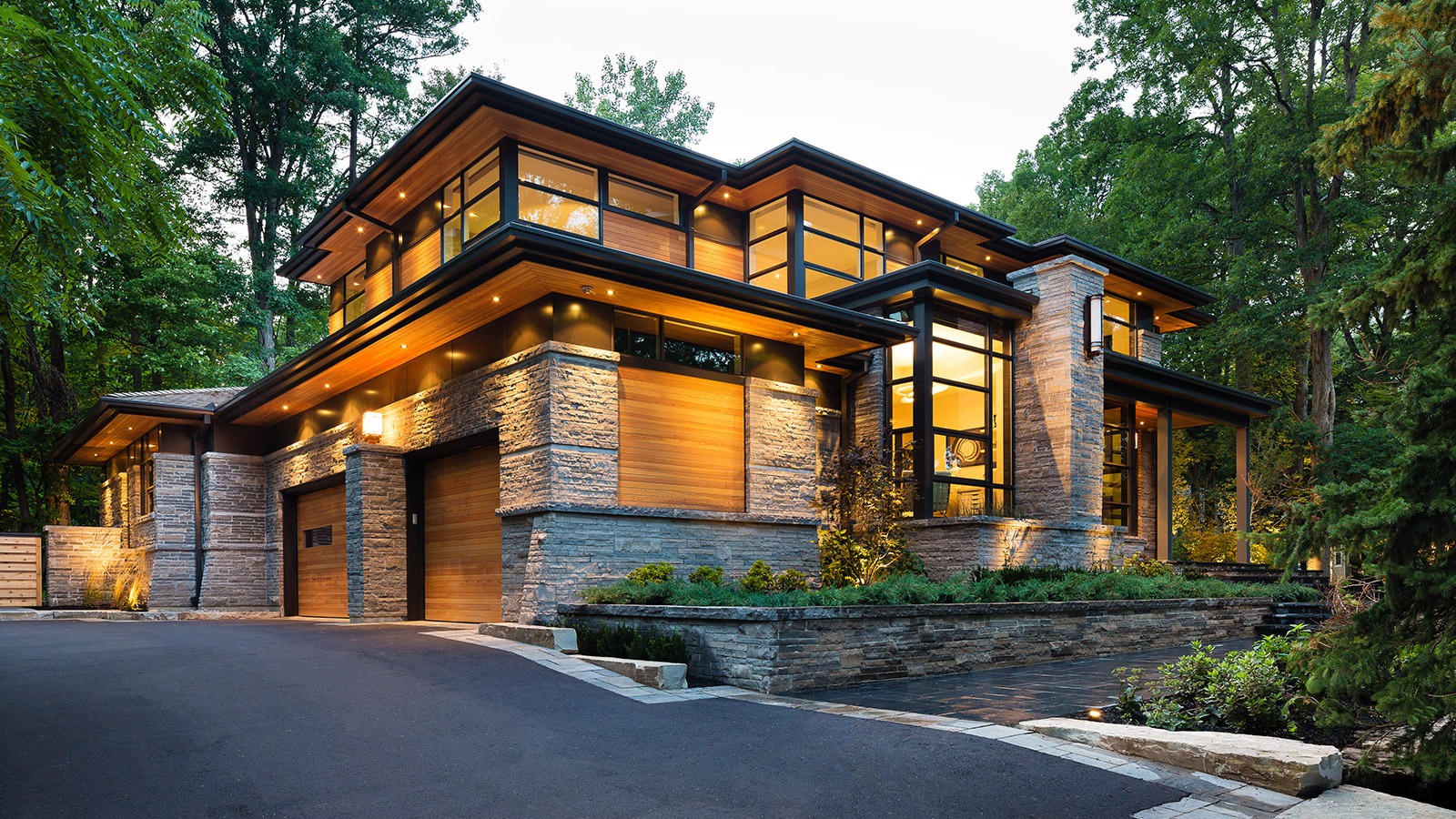 David Small Design' Natural Modern school directly acknowledges that connection. Our architectural design language ties a home's interior and exterior spaces in exciting ways. Through extensive use of glass, natural materials such as stone and wood—along with intricate planning that accentuates a property's topographical details—it creates a dynamic flow and energy that enhances a dwelling's potential.
It's an engaging way to turn sightlines, natural light and sweeping views into striking design features.
It also creates intriguing areas for owners and their families to live life and enjoy precious time together with loved ones and friends. There's a reason why Natural Modern is often described as 'lifestyle-friendly modern' by architecture critics and our clients alike. It adds new layers of warm and inviting functionality.
But transforming an exterior space into an inviting oasis takes careful attention to detail and planning. It's a process of considering how your family interacts, how you wish to engage with the outdoors and how that interplay can enhance the enjoyment of your home as a whole.
Thinking outside during the design phase
Many home owners focus the bulk of their attention on the exterior façade and interior spatial requirements of their home during the architectural design stage—and for obvious reasons. But from the earliest phases of the process, we recommend also envisioning how your future outdoor living spaces should be designed to suit your needs.
Doing so not only helps integrate outdoor and indoor living environments in a seamless way, but will also align your custom home wish list and budgetary realities. Creating an outdoor living room (or several enticing spaces purpose-built to maximize the enjoyment of your surroundings) can quickly inflate a construction budget—especially if major landscaping work is involved.
Perhaps your plan is to create a fully-equipped outdoor kitchen for summer barbecuing or even year-round cooking. Maybe you aim to integrate a pool with a surrounding deck or other elements such as a water feature. A fire pit area could be the perfect setting to take in the stars, particularly on cooler nights. A bar-lounge nook would allow you to watch sports or other events in the open air. Working with your interior design team, you may even choose outdoor lounge or dining furniture of a similar aesthetic to the furniture inside your house. The goal being to create a sense of unity and coherence between indoor and outdoor spaces.
Remember that additions such as these will have a significant impact on your final construction budget. Discussing them in the early stages of the design process not only affords your architectural designer the opportunity to ensure that angles, sightlines and even room positioning are ideally situated to capitalize on exterior elements, but can also allow for the kind of proactive planning that avoids costly re-work or expensive late-stage project additions.
Using a property to your advantage
Whether built on a slope, a lakeside or in a busy urban neighbourhood, it always makes sense to leverage a property's natural features to create a truly unique outdoor space. For example, a hillside property could allow for a terrace system with multiple seating areas—one for dining, another for lounging and one to enjoy a soothing hot tub soak, for example. A large balcony could afford sweeping views of an expansive valley or nearby mountains.
Our Fairy Lake cottage project is a fine example of our Natural Modern aesthetic at work, while showcasing our use of a property's natural features to enhance its form and function.
In that case, we took full advantage of the property's natural slope to include features that framed extraordinary waterfront views, while creating multiple outdoor living spaces and establishing a clear connection to the dockside environment below. As we note in our Portfolio case study:
"This cottage shows how traditional massing can be combined with modern finishes to create a welcoming getaway. A classic gable roof design was elevated by exposed steel beams, floor-to-ceiling windows and modern glass railings. The Muskoka room—the three season covered living space—features a roll-down phantom screen and wood-burning fireplace."
Even the home's upper floor bathtub placement was carefully situated to offer serene waterfront views and create opportunities to relax and unwind. Pine-ceilinged, covered porches extended the indoor spaces to produce an elegant continuity of the natural material palette.
At the forefront
We often remind clients that outdoor spaces should never be an afterthought in the custom home design process.
These spaces could well be the ones where you and your family spend the bulk of your time when the weather permits—and sometimes even when the temperatures make a cozy blanket or a roaring outdoor fire a necessity. Take the time to imagine how you want to spend your outdoor time, then work with your architectural designer to bring that distinct vision to life.
The David Small Design Team
https://www.davidsmalldesigns.com/wp-content/uploads/2020/01/gallery-garage-in-the-front-06.jpg
1200
1800
admin
https://www.davidsmalldesigns.com/wp-content/uploads/2019/11/David-Small-Designs-Logo.svg
admin
2021-06-18 15:44:54
2021-09-10 11:09:21
Enhancing your custom home with harmonious outdoor living spaces