Every corner is an opportunity. In geometry it's the point where two straight lines meet, creating an entirely new dynamic. Those lines can then diverge in different directions, but their intersection serves as a foundation for the journey that comes next. When a custom home is built on a corner lot, it takes pride of place in a neighbourhood and creates a similarly intriguing junction. It becomes a focal point. The architectural designer can leverage that intersection to frame the home's composition in exciting ways—creating a structure that's both interesting and distinctive, then grounding everything around it.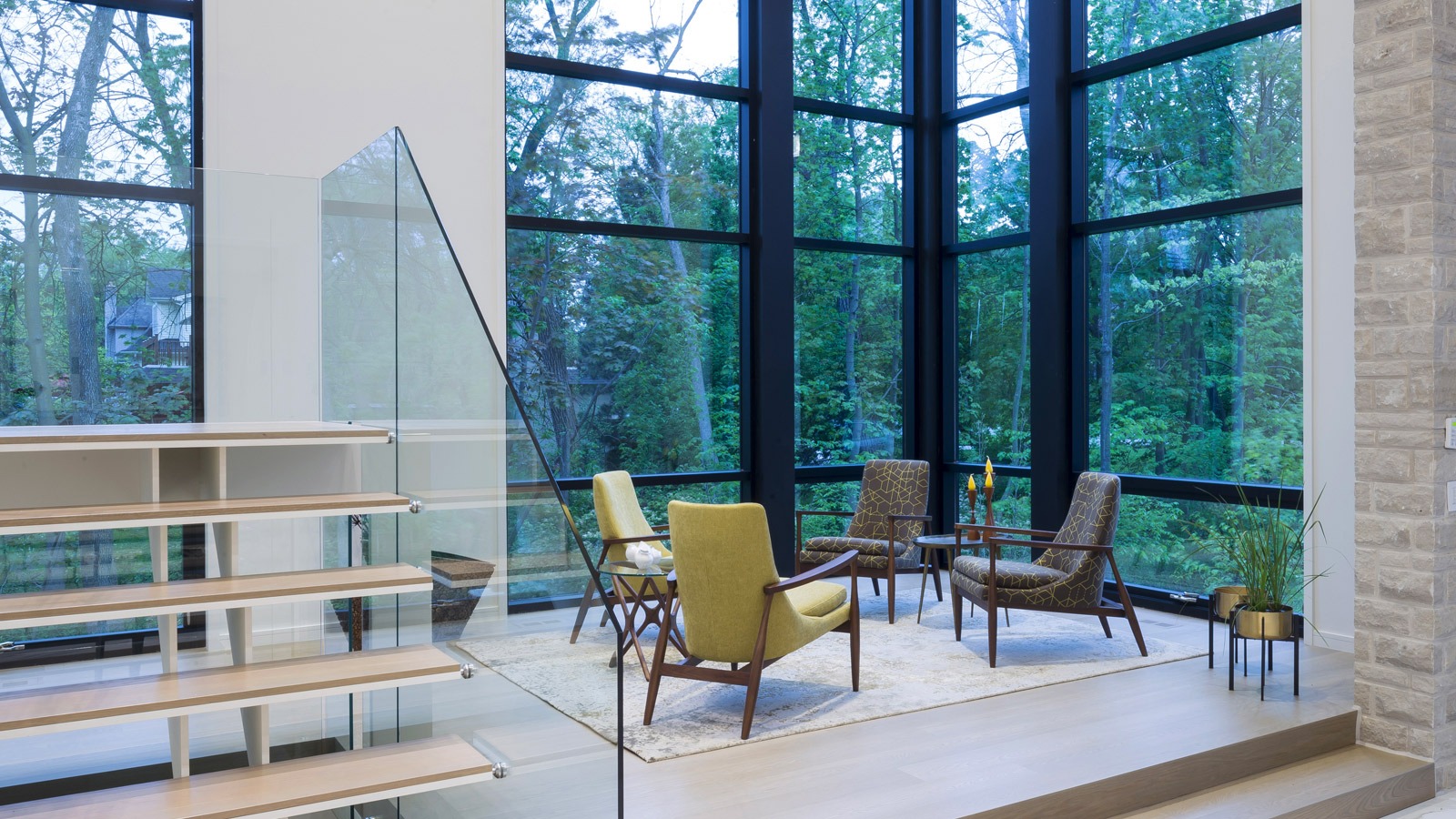 With three elevations visible from the street, the angularity of the corner lot home's architecture can sit on full display, accentuating glass, stone, wood or whatever material clads the exterior. Feature windows can take on exciting prominence just as pavilions are poised to elevate sightlines and exposures.
Stepped rooflines and corner peaks add layers of dimension and depth, producing a home design that speaks to its owner's identity, while engaging in a lively conversation with the surrounding neighbourhood. Landscaping can be designed to add flare and complement the architecture in stunning ways. That includes potentially creating multiple outdoor living spaces that capitalize on the home's positioning.
Corners allow for unparalleled creativity, in other words, but demand the utmost attention to detail. Thoughts on privacy and the intricacies of engaging in harmony with the streetscape should always warrant careful consideration.
As such, leveraging the full opportunity of a corner lot requires a strategic approach to design. Developing a holistic site plan that accounts for the property's defining characteristics and integrates important considerations such as outdoor elements requires a deft design hand. At David Small Designs, for example, our Natural Modern aesthetic is focused on ensuring that our custom homes take their natural surroundings into account in a meaningful and deliberate manner.
Corner lots at play
One recent project, aptly named The Corner Lot, perfectly captures that design ethos.
The home's positioning and extensive use of feature windows helps flood its living spaces with natural light. By positioning the garage on the narrow wide of the lot, our team was able to ensure that rooms such as the kitchen and den were afforded optimal views of the property. That includes sightlines to the remarkable backyard featuring a pool, cabana and spa area designed to maximize the owner's year-round outdoor enjoyment of the home.
We achieved a similar result with The Glass Corner, winner of the Ontario Home Builders' Association Awards of Distinction 2017 for Most Outstanding Custom Home (5,001 sq.ft. and over). In this case, a two-storey glass corner offered sweeping views of the property, produced an instantly-recognizable architectural feature and forged a clear connection between outdoor and indoor spaces. As with The Corner Lot, this home's high-traffic spaces are immersed in natural light, enhancing livability and achieving the home owner's goal of marrying a modern aesthetic with a warm and welcoming interior ambience.
For the California Corner, in Menlo Park, CA, we took inspiration from the Natural Modern aesthetic of David's House, positioning the home in a way that leverages sight lines to the street and maximizes light exposure. Once complete, California Corner's contemporary architecture is sure to become a prominent feature of this fast-growing Silicon Valley neighbourhood, located a short 15-minute drive from the area's most notable architectural landmark, Apple Park.
A chance to create something special
It's not uncommon for aspiring custom home owners to be reluctant to build on a corner lot. From a perceived lack of privacy to the need for more intricate landscaping across elevations, they often worry that designing a corner-based property involves excessive complexity and added architectural design costs. In most cases, this simply isn't true.
In fact, we see a corner lot as an architectural gift—a chance to create something special for you and your family to thrive. It's an opportunity to build a cozy and inviting home with architectural allure—pitched angles, structural roofs and towering windows that add detail and life to the interior spaces where most of your memories will be made.
It's an opportunity that should never be overlooked.
The David Small Design Team
https://www.davidsmalldesigns.com/wp-content/uploads/2020/11/178Norman_HR003.jpg
1669
2500
admin
https://www.davidsmalldesigns.com/wp-content/uploads/2019/11/David-Small-Designs-Logo.svg
admin
2021-07-01 12:00:09
2021-09-10 11:09:31
The intrigue and opportunity of the corner lot