There are few things more Canadian than the iconic images that capture our country's rugged beauty from coast to coast. The Rockies, the prairies, the Canadian Shield and the picturesque shorelines of the Maritimes. Canada is forever defined by its landscapes.
Similarly, if on a much smaller scale, custom homes can often be defined by the landscape details of their surrounding property. From appendages that grab the land and take advantage of views and grading—especially in rural settings—to a residence's careful integration into a specific site, landscape choices can sometimes be as important as those made during the architectural and interior design phase of a custom home project.
That's especially important when taking the Natural Modern philosophy into consideration. Natural Modern is David Small Designs' signature ethos. Think of it as our technique for ensuring that a custom home integrates seamlessly with its environment. Inspired by the work of iconic 20th century architect Frank Lloyd Wright, it leverages the natural landscape as an asset and tool to complement a wide array of architectural design approaches. It captures the purity and beauty of natural landscapes, translating scenic features into elements that make a well-designed custom home even more appealing.
Leveraging landscapes in the design process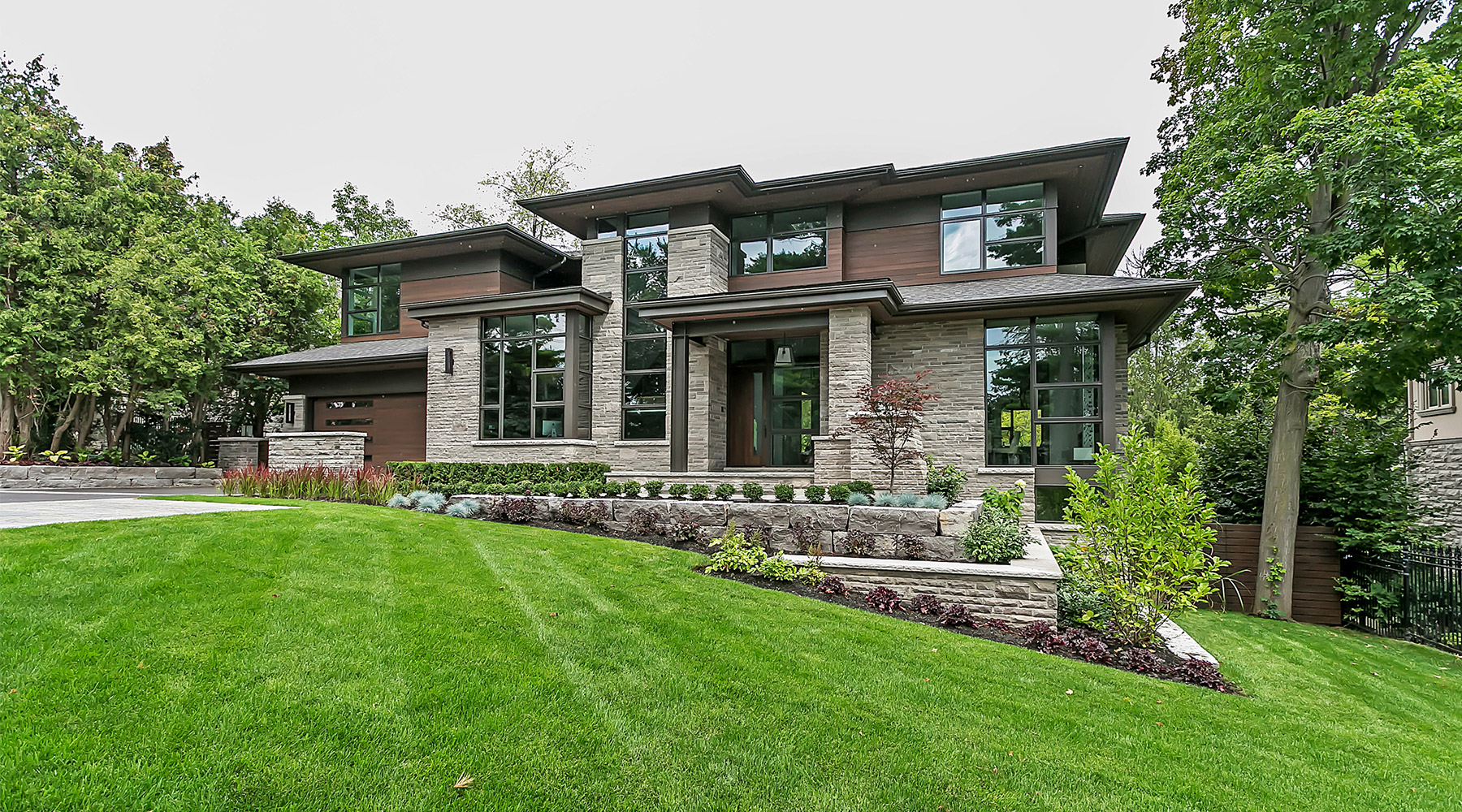 One of the first considerations in the design of any custom home should be its placement on a site. This is crucial to ensuring that the home's owners have every opportunity to enjoy potentially stunning sightlines from their property. If the home is situated adjacent to a lake in Ontario's Muskoka region or overlooking a stunning mountain vista, for example, efforts should be made to maximize those views, perhaps even setting the stage for the inclusion of four-seasons rooms that allow for year-round enjoyment of landscapes and views. In contrast, if the home is in a residential neighbourhood, the focus typically shifts to positioning it in a way that helps maintain a degree of privacy.
In either case, careful planning comes into play. The placement of trees, hedges, interesting flora such as tall-growing grasses and other vegetation can bring a new degree of intrigue and dynamism to a custom home. Stone skirts, angled walls that are often integrated alongside Craftsman-style homes, or other types of landscape walls all help to add order and coherence to an outdoor space.
Topographic surveys aid in the process by highlighting opportunities to incorporate (or work with existing) slopes, natural stone elements or unique trees into a landscape plan. On that note, having a defined landscape design—often developed with the assistance of a landscape architect—provides a coherent strategy and action plan that allows all parties in the custom home design process (architectural designers, builders, etc.) to share in (and help achieve) the owner's vision for the home.
A defined process is also important in areas where conservation or municipal regulations dictate strict land usage rules. In those cases, the degree of landscape design, or the measures taken to redefine the surrounding environment, will be limited by local ordinances. Homes backing onto ravines, lakes or rivers, or parks are often subject to very specific design restrictions. Of course, those requirements aren't necessarily barriers to success. They can present challenges, to be sure, but they also offer new opportunities for creativity and to preserve certain natural elements. Restrictions can open the door to some of the most interesting landscape innovations.
Landscape mastery at work
Many David Small Designs homes are indicative of the benefits of careful landscape planning, but two stand out. Cottage in the City is located in the heavily-wooded Lorne Park Estates area of Mississauga, Ont.—which, decades ago, served as a summer retreat for Toronto residents (hence the home's nickname). Natural exterior materials blend seamlessly with the surrounding forest—a landscape so bucolic that it still could be mistaken for Central Ontario cottage country. This natural urban oasis features a timber-framed porch, a three-storey stone chimney and large glass gables. But it's the home's side elevation that heavily references Muskoka cottages and captures the essence of the surrounding environment.
Similarly, our Modern Country Farmhouse project in Mulmur, Ont., features a four-season room and balconies that showcase views of the valley in which the home is situated. A pond on the property enhances its rural appeal, while intricate stonework and thoughtful landscape design give the home the feel of a remote retreat where the owners, their friends and family can escape from the stresses of everyday life. At the same time, they can still enjoy the benefits of a major city, because Modern Country Farmhouse is situated only about an hour away from downtown Toronto.
The benefits of thoughtful, studied landscape design should never go overlooked. Paying close attention to the natural environment can help transform a well-appointed custom home into a forever home showpiece.
The David Small Design Team
Contact a member of our team today to learn more about our custom home design process.
https://www.davidsmalldesigns.com/wp-content/uploads/2021/12/modern-country-farmhouse-02.jpg
1056
1600
admin
https://www.davidsmalldesigns.com/wp-content/uploads/2019/11/David-Small-Designs-Logo.svg
admin
2022-10-12 16:19:58
2022-10-12 16:19:58
How landscapes can help define a custom home